Dear friends,
As I noted last night, while a ceasefire had been announced the details of the deal were still trickling through and there was some skepticism as to whether the siege would be lifted.
Reading the outline of the deal provided by Reuters, it seems the siege is only partially lifted - meaning that in effect it is still in place, at least on the Israeli side as Israel still controls the land, sea and air borders. However, there will be an easing of restrictions on the Israeli side to allow humanitarian aid through.
Egypt in a separate deal has agreed apparently to open its borders but there appears to be still restrictions on "dual use" goods (ie. lots of electrical and other building goods, which are deemed as weaponisable).
So while it is good that there has been an easing of restrictions, we also need to realise that it means that Israel (and Egypt to a lesser extent) can shut the borders down any time they feel like it and prevent much need goods entering the region. It also means that Gaza remains under occupation and that that freedom of movement for Palestinians and goods will still remains restricted and under heavy Israeli control.

The Guardian has similarly noted that the terms of the deal seem to be similar to that of the ceasefire deal in 2012 which only saw an easing of the siege, not an ending of it.
in solidarity, Kim
**
What's in the Gaza peace deal?
By Nidal al-Mughrabi and Luke Baker

GAZA/JERUSALEM
(Reuters) - Israel and the Palestinians agreed on Tuesday to an Egyptian-brokered plan to end the fighting in Gaza after 50 days of combat in which more than 2,100 Palestinians, most of them civilians, 64 Israeli soldiers and five civilians in Israel were killed.
Following are the broad parameters of the agreement, which Israeli and Palestinian negotiators have been working on through indirect talks in Cairo over recent weeks.

As part of the deal, both sides have agreed to address more complex issues dividing them - including the release of Palestinian prisoners and Gaza's demands for a sea port - via further indirect talks starting within a month.

IMMEDIATE STEPS

* Hamas and other militant groups in Gaza agree to halt all rocket and mortar fire into Israel.

* Israel will stop all military action including air strikes and ground operations.

* Israel agrees to open more of its border crossings with Gaza to allow the easier flow of goods, including humanitarian aid and reconstruction equipment, into the coastal enclave.

* In a separate, bilateral agreement, Egypt will agree to open its 14 km (8 mile) border with Gaza at Rafah.

* The Palestinian Authority, headed by President Mahmoud Abbas, is expected to take over responsibility for administering Gaza's borders from Hamas. Israel and Egypt hope it will ensure weapons, ammunition and any "dual-use" goods are prevented from flowing into Gaza.

* The Palestinian Authority will lead in coordinating the reconstruction effort in Gaza with international donors, including the European Union.

* Israel is expected to narrow the security buffer along the inside of the Gaza border, reducing it from 300 meters to 100 meters if the truce holds. The move will allow Palestinians more access to farm land close to the border.

* Israel will extend the fishing limit off Gaza's coast to six miles from three miles, with the possibility of widening it gradually if the truce holds. Ultimately, the Palestinians want to return to a full 12-mile international allowance.

LONGER TERM ISSUES TO BE DISCUSSED

* Hamas wants Israel to release hundreds of Palestinian prisoners rounded up in the West Bank following the abduction and killing of three Jewish seminary students in June, an attack that led to the war. Hamas initially denied involvement in the killings, but a senior Hamas official in exile in Turkey last week admitted the group did carry out the attack.

* President Abbas, who heads the Fatah party, wants freedom for long-serving Palestinian prisoners whose release was dropped after the collapse of peace talks between Israel and the Palestinian Authority.

* Israel wants Hamas and other militant groups in Gaza to hand over all body parts and personal effects of Israeli soldiers killed during the war.

* Hamas wants a sea port built in Gaza, allowing goods and people to be ferried in and out of the enclave. Israel has long rejected the plans, but it is possible that progress towards it could be made if there are absolute security guarantees.

* Hamas wants the un-freezing of funds to allow it to pay 40,000 police, government workers and other administrative staff who have largely been without salaries since late last year.

* The Palestinians also want the airport in Gaza - Yasser Arafat International, which opened in 1998 but was shut down in 2000 after it was bombed by Israel - to be rebuilt.

(Reporting by Nidal al-Mughrabi; writing by Luke Baker; editing by Larry King)
**
Terms of indefinite ceasefire – brokered by Egypt – expected to be similar to those agreed at the end of 2012 conflict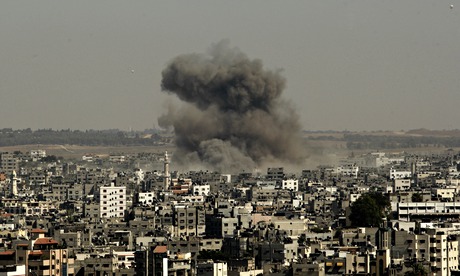 The war in Gaza ended on Tuesday after Israel and the Palestinians agreed to halt fighting indefinitely, putting an end to seven weeks of catastrophic loss of life and destruction, but on terms which are likely to leave many on both sides of the conflict wondering what had been achieved.
Hamas and Islamic Jihad – the main militant groups in Gaza – the Palestinian Authority and Israel agreed on an open-ended ceasefire beginning at 7pm on Tuesday evening, bringing relief to civilians on both sides of the border.
Rocket fire and airstrikes continued until the last moments, and sirens sounded across southern Israel past 7pm. One Israeli was killed and several injured by a mortar shortly before the deadline, the Israel Defence Forces said. In Gaza, two children were killed in an airstrike in Khan Younis shortly before the ceasefire, and police reported that an Israeli airstrike flattened a seven-storey building in Beit Lahiya, the sixth high-rise to be toppled since the weekend.
As the ceasefire came into effect, Gaza echoed with celebratory gunfire and mosques announced victory through their loudspeakers. Tens of thousands of people took to the streets in response to text messages sent by Hamas urging victory celebrations.
But the terms of the deal – brokered by the Egyptian government, and reached on the 50th day of the conflict – appeared to be almost identical to those agreed at the end of the previous war 21 months ago. Israel will open crossings on its border to allow the humanitarian aid and construction materials to enter Gaza, and will extend the permitted fishing zone to six miles off the coast of Gaza. The Rafah border crossing between Gaza and Egypt is also to be opened.
More difficult issues will be deferred for further indirect talks between the two parties in a month. They include Hamas's demands for an airport and seaport in Gaza and the release of Palestinian prisoners, and Israel's insistence on the disarmament of militant groups and the return of the remains of two of its soldiers killed in the fighting.
In a televised address, Palestinian president Mahmoud Abbas thanked the Egyptians, Qataris and US secretary of state John Kerry for their efforts to secure a ceasefire. He added: "The question is now 'What's next?' Gaza suffered three wars and are we expecting another one? We will consult friends and the international community, and we can't continue with 'cloudy negotiations'."
At a press conference at the Shifa hospital in Gaza City, Hamas spokesman Sami Abu Zuhri said: "Hamas is grateful to the people of Gaza who sacrificed their homes, children and money. We announce the victory today after achieving our goals."
He added: "[Israeli prime minister Binyamin] Netanyahu has failed to force Gaza to surrender. Yes, we defeated them by our standing and our resistance. We will stand by our people and we won't leave them."
Israel accepted the ceasefire, although three cabinet members, including the hardline foreign minister Avigdor Lieberman, voiced opposition, according to Israeli media. A government official said: "Israel has accepted an Egyptian proposal for a complete and unlimited-in-time ceasefire. Israel accepted already the Egyptian proposal on 15 July. Israel has always supported an unconditional, open-ended ceasefire."
A US state department spokeswoman said: "We call on all parties to fully and completely comply with its terms, and hope very much that the ceasefire will prove to be durable and sustainable. We view this as an opportunity, not a certainty. There is a long road ahead and we're aware of that, and we're going into this eyes wide open."
The deal follows at least eight temporary ceasefires during the course of the conflict. In Gaza, more than 2,100 people have been killed, most of them civilians, including about 500 children, in the past seven weeks. At least 11,000 people were injured and more than 17,000 homes destroyed or badly damaged. Around a third of Gaza's 1.8 million population has been displaced, many now living in United Nations shelters. Schools, hospitals, factories, farms, mosques and infrastructure such as power and water plants were hit. Reconstruction could take up to 10 years, say analysts. On the Israeli side, 64 soldiers died and five civilians – including a four-year-old boy – were killed. Hundreds of families relocated from homes near the Gaza border to safer areas further north.
The Israeli military estimates that the weapons stocks of Hamas and other militant groups have fallen to less than a third of their pre-war levels, by being fired or destroyed in airstrikes.
Three of Hamas's top military commanders were killed last week, and the fate of its military chief , is still unknown after his wife and two children were killed in a massive airstrike last Tuesday. However the organisation claims to have won respect among Palestinians for putting up strong resistance against Israel's military onslaught.
Israeli leaders are expected to claim to have severely weakened Hamas over the past seven weeks, and restored "quiet" to areas within rocket range.
Egypt will hope to gain international credibility from brokering a ceasefire agreement after weeks of abortive talks hosted in Cairo.
The Gaza conflict began on 8 July following weeks of tension after the abduction and murder of three Israeli teenagers in the West Bank, and the subsequent revenge killing of a Palestinian youth. Israel responded with a wave of arrests of Hamas members, which triggered intensified rocket fire from Gaza.