Dear friends,
please find below my lastest article on Gaza, published by Red Flag.
In solidarity, Kim
**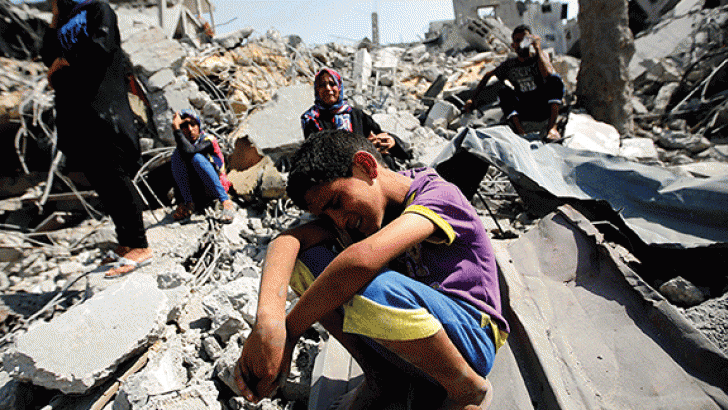 A three-day ceasefire between Israel and Hamas came to an end on 8 August after Israel refused to lift its illegal siege and blockade of Gaza. Almost 2 million Palestinians remain captive inside the biggest open-air prison in the world.
Israel's month-long assault on Gaza left more than 1,870 people dead, including 1,380 civilians – among them were 430 children. In addition, 10,000 Palestinians were injured, including almost 2,900 children.
The numbers for both the dead and injured are expected to rise as bodies are excavated from the rubble of the towns and cities destroyed by Israel and with the resumption of the Zionist state's assault on Gaza. In the hours following the collapse of the ceasefire, Israel carried out at least 47 airstrikes, killing five people, including at least one child.
Israel began its murderous assault on 8 July, after three weeks of illegal collective punishment against the Palestinians in the occupied West Bank, in the wake of the 12 June kidnapping and murder of three teenage Israeli settlers. At the time of the kidnappings, Israeli prime minister Benjamin Netanyahu blamed Hamas. It was later revealed that the Netanyahu government knew that the three settlers were dead almost immediately and that Hamas was not involved in ordering their kidnapping.
On 25 July, BBC journalist Jon Donnison reported via Twitter that he had been informed by Israeli police spokesperson Mickey Rosenfeld that the teenage settlers had been killed by a "lone cell" that was affiliated to Hamas "but not operating under the leadership". However, Netanyahu used the kidnapping to escalate Israel's attacks in order to undermine the newly established Palestinian unity government.
Israel carried out indiscriminate attacks against the largely defenceless civilian population. It targeted civilian infrastructure including houses, hospitals and schools. More than 520,000 Palestinians were displaced, more than 10,000 houses were destroyed, and more than 65,000 people were made homeless. According to the United Nations Refugee Works Agency, Israel also carried out strikes against at least six UN schools housing thousands of displaced Gazans, despite being given the precise locations of the schools. In fact, the Israeli military was advised on 33 occasions of one school's location and 17 times of another's. It still bombed them.
Amnesty International issued a statement on 7 August saying that there was growing evidence that Israel had deliberately targeted medical workers and facilities. At least 19 ambulances and aid workers were killed as they attempted to rescue the wounded and collect the dead, while 49 doctors, nurses and paramedics, along with 33 other aid workers, were injured. Five hospitals and 34 medical clinics were either destroyed or damaged and forced to close.
The targeting of civilians or civilian infrastructure, including schools, hospitals/medical centres and civilian housing, is a war crime.
Israel's indiscriminate bombardment has also resulted in the widespread destruction of essential infrastructure, including water and sanitation networks, electricity supply lines and Gaza's only power plant. At least 130 factories have been destroyed, including ones producing essential medicines.
Israel's constant bombardment has also devastated the agricultural harvest, which has provided the imprisoned Palestinian population with staples such as potatoes, tomatoes, olives and other vegetables and fruits. In June, the UN reported that 57 percent of Gazan households were already suffering from food insecurity as a result of Israel's illegal blockade.
The first waves of humanitarian assistance arrived in early August. However, no matter how much assistance Gaza receives, the root cause of the humanitarian disaster there continues. Israel's eight-year blockade had already brought Gaza to the brink of a humanitarian crisis. There was very little drinking water and dwindling fuel supplies, which are needed to run generators for hospitals, schools and homes. There were limited power supplies due to Israel's repeated attacks on Gaza's only power plant.
In the last six years, Israel has carried out three major attacks on Gaza, repeatedly destroying houses, hospitals and schools and killing hundreds of Palestinians.
Israel has made clear that its tactic is to afflict Gaza with ruin and devastation in order to achieve its goal of complete Palestinian capitulation and acquiescence in the illegal occupation and apartheid regime. This was confirmed on 5 August, when Israeli government spokesperson Ofer Gendelman told Palestinian news agency Ma'an that Israel would agree to the rebuilding of the Gaza Strip only in exchange for the Palestinian resistance disarming.
As long as Israel's illegal occupation of Palestine and blockade continues, it will be impossible to rebuild Gaza and overcome the humanitarian disaster that the Zionist state has caused. The demand by the Palestinian resistance for the lifting of the siege is a basic humanitarian demand, which should not be up for negotiation but instead implemented immediately.