Dear friends,
please find below my latest article for Red Flag on the murder of Ali Dawabsha and settler violence in the Occupied West Bank.

in solidarity, Kim
**
Settler violence a logical consequence of Israeli government policies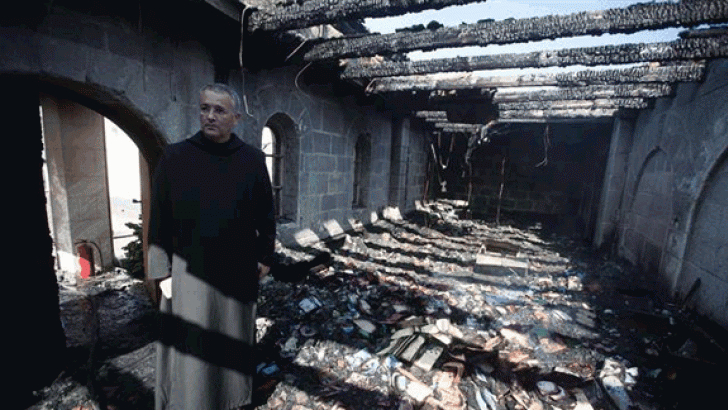 Church in Palestine torched by settlers in June
Eighteen-month-old Ali Dawabsha was burnt alive in the occupied West Bank on 31 July. Israeli settlers firebombed his family's house at 2am.
A week after Ali's charred body was pulled from the home, his 30-year-old father Saad died from injuries sustained in the same attack. Both Saad and his wife, Reham, suffered second-degree burns to more than 80 percent of their bodies. Their other son, Ahmed, sustained burns to 60 percent of his body.
"Burning Palestinian children to death is becoming an annual event", tweeted independent journalist Dan Cohen – noting that baby Ali's death occurred just one year after the murder of Muhammed Abu Khdeir on 2 July 2014.
Kidnapped by Israeli settlers from outside his home in occupied East Jerusalem, the 16-year-old was taken to a forest, where he was tortured and made to drink petrol before being set alight.
In the aftermath of both Muhammed's and Ali's deaths, Israeli prime minister Benjamin Netanyahu and numerous other Israeli politicians expressed "shock" at the brutal murders. In both instances, Netanyahu promised to bring the full force of Israeli law against the perpetrators.
However, the platitudes and condemnations by Netanyahu and other Israeli political figures cannot be taken seriously. They are a performance staged for international consumption. Just one day before the kidnapping of Abu Khdeir, Netanyahu issued a call for vengeance after three missing Israeli settlers were found dead in the West Bank. A week later, Netanyahu launched a murderous 51-day assault on Gaza, killing more than 2,200 Palestinians, including 551 children.
Less than 24 hours after the Dawabshas' home was firebombed, Israel's army murdered two more Palestinian teenagers in cold blood. Muhammed Hamid al-Masri was shot dead in Gaza, while Laith al-Khaldi was murdered at Atara checkpoint. Both were 17 years old.
Netanyahu has been one of the leading figures bearing responsibility for settler presence in the occupied West Bank. Elected prime minister in 1996 on a platform of expanding illegal settlement construction, Netanyahu declared during a visit to the illegal Israeli colony of Ariel: "We will be here permanently, forever".
At the time, 140,000 Israeli settlers were living illegally in the occupied Palestinian territories. Today there are more than 650,000. Campaigning for re-election in January this year, Netanyahu made clear his continued support for the illegal colonies. "I do not intend to evacuate any settlements", he told Israel's Channel Two.
In the two weeks since the death of baby Ali, settlers have continued to firebomb Palestinian homes and attack Palestinian villages. According to the UN Office for the Coordination of Humanitarian Affairs (UNOCHA), settlers have carried out at least 120 violent attacks with impunity on Palestinians in occupied East Jerusalem and the West Bank since the start of 2015.
The murders of Ali and Muhammed are not aberrations, but logical results of the Israeli government's continued occupation, apartheid and ethnic cleansing.